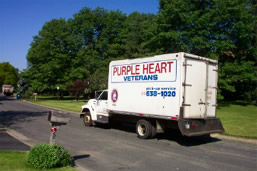 On August 7, 1782, General George Washington designed the Badge of Military Merit in the figure of a heart in purple cloth or silk with a narrow lace or binding. It signified "any meritorious action." On this date in history, General Washington wrote in his orderly book:
"The road to glory in a patriot army and a free country is thus open to all. This order is also to have retrospect to the earliest stages of the war, and to be considered a permanent one."
After the Revolutionary War, no American soldiers received the Badge of Military Merit. It was not until 1932, under the direction of General Douglas MacArthur, that this distinctive award was renamed the Purple Heart. The conditions under which the award could be bestowed were also rewritten to include wounds received in action with an enemy.
Shortly after the award was re-instituted, a group of combat wounded veterans in Asonia, Connecticut formed the first fraternal chapter of what is now the Military Order of the Purple Heart. The organization has grown rapidly since WWII and is now a nation-wide body of dedicated men and women who are recipients of this distinguished military decoration. The Military Order of the Purple Heart of the U.S.A., Inc. founded in 1932, was congressionally chartered on August 26, 1958.
The Order maintains a national headquarters in Springfield, Virginia and has chapters throughout the United States. The organization represents veteran's interests before Congress, the Department of Labor, and Department of Veterans Affairs and on the state and local level.
The National Service Program provides free assistance and representation for all veterans, their survivors and dependents. National and volunteer service officers are accredited by the Department of Veterans Affairs.
To help support the many programs sponsored by the MOPH by donating usable clothing and household items, please visit our Request a Pickup Page.
For more information on the Purple Heart please visit the national site at: purpleheart.org
For information on donating a car, visit the Purple Heart Car Donation page.